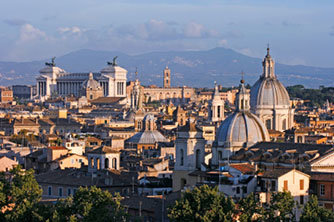 Tuesday October 6, 1992 Rome, Italy
I'm up at 5 a.m. to leave at 6:15 for our trip to Rome from our port of Naples. Naples is another crowded dirty city. We arrive in Rome about 9:30 a.m. We have one tour guide on the bus and another for Rome. She takes us through the Vatican Museum adjoining the Sistine Chapel. Michaelangelo spent 41 years painting the ceiling of the chapel. He was 81 when he finished his "Creation of the World." From there we went into St. Peters Church, the largest church in the world with 44 alters. It is gigantic and lovely.
It was pouring rain when we emerged. We boarded our bus and toured to lunch at a lovely restaurant. We ate late about 2:30. We had 2 pastas, then salad, then veal with potatoes and dessert plus wine. We toured from the bus (raining) the coliseum, the forum, drove old Appian Way, etc, etc.
Returned to our ship at 7 p.m. too full and too tired to eat dinner. Went to bed. Frank went to dinner.
That was one long day! I don't know why their cruise ship stopped in Naples, a 3-hour drive from Rome, when the Port of Civitavecchia is only an hour away. It looks like the port in Civitavecchia is very small and can only accomodate a few ships. It must have been full. Rome has so much to see, it is a shame that their tour had so much to jam into a few hours, and then the rain meant that had to view the sights through the rainy windows of the bus.