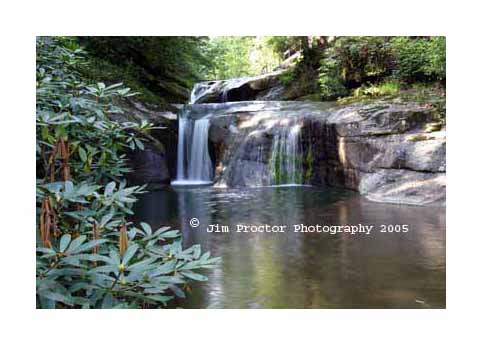 Monday June 17, 1991
We slept in til 9:30. Ate cereal and went to register. The morning is warm and partly cloudy. Definitely shorts weather. Everyone in this state wears shorts day and night.
After registering we drive all around this Fairfield resort. Like the other Fairfields we have visited there are miles and miles of real estate for sale: lots, homes, condos, and timeshares. Also rec rooms, indoor and outdoor swimming pools, tennis, several golf courses, miniature golf, lake and marina and beaches.
We drive to Chimney Rock and the town of Lake Lure. We pay to see Bottomless Pools and waterfalls.
At 4:30 we return for Welcome Party under the tent at the beach. It pours rain. We win a free dinner and a bottle of champagne. We pit out on ice cream sundaes. Later we have a great home cookin' dinner at Logans Restaurant. Then we go to the country club and dance a few hours. Bed earlier--10:30.
Chimney Rock, pictured above, is a 535-million-year-old monolith. From its top, you get a 75-mile panoramic views of Hickory Nut Gorge and Lake Lure. A 26-story elevator built right inside the mountain takes visitors to the top.

The Lake Lure bottomless pools are currently closed, because the owner of the land passed away. The three separate bottomless pools were created over thousands of years as water from the waterfalls carved out the sediment. Each of the three pools has its own waterfall feeding into it.

Lake Lure is nestled in the Blue Ridge Mountains in North Carolina. National Geographic named it one of the most beautiful man made lakes in the world. Hmmm, add that to my list of my must-see destinations before I die.