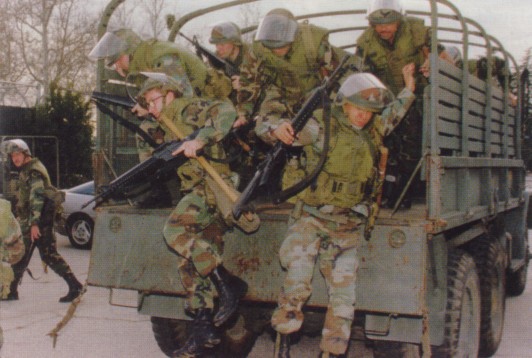 Friday May 1, 1992 L.A. Riots Day 3
A phone call from an acoustic repairman woke us at 6:30 a.m. Neither of us got back to sleep before we got up at 7:30. I went down to prepare breakfast for Frank, Junior and Joseph. Junior came down about 7:45, Joe about 8:15. We all had cereal and watched the news which was pretty good. The curfew last night did some good. There was alot less looting and fires and alot more arrests. Things seem to have calmed down alot. Debby calls to say Phil and his National Guard unit spent the night in Arcadia, but they are on their way to Compton.
We take the boys with us to Marvel house to meet the roofer. The rest of the day they spend watching movies and eating. I pay the bills. Frank puts new brakes on the Cady. Gary and Maria arrive from work about 5:30. Gary must work tomorrow 6 a.m. to 6 p.m. I pray he'll be safe. I hope he doesn't have to go to the riot area. I feel much better about the riots.
Shortly after 9:00 p.m. on April 29, the first 2,000 California Army National Guard soldiers were requested by the governor. The Marines were also called in to restore order. Frank's son was a member of the National Guard and was called into service. My brother Gary works for the Department of Water and Power and was called in to repair damage to electrical equipment and restore power. Unlike the Watts riots of 1965, a comparatively small neighborhood, the 1992 riots encompassed a huge area that stretched over 32 miles from the Hollywood Hills to Long Beach.

One year from this date Mom would pass away.