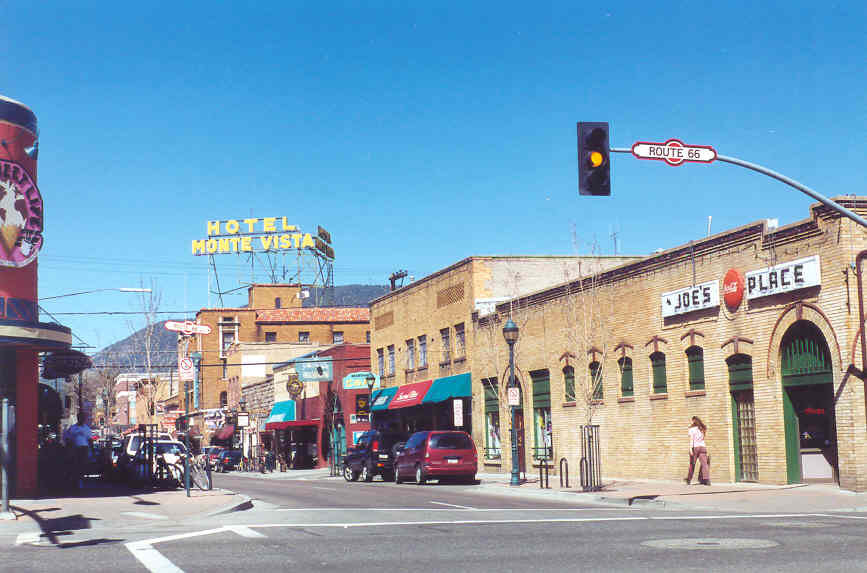 Sunday August 2, 1992
I awake early and by 9 a.m. we leave the condo for our trip home. It's been lovely staying in such lush accommodations with such a lovely view from every window. Goodbye Pagosa Springs. We head home through Farmington, New Mexico, a good size town with a lovely mall. We decide to have an early lunch there. It's a long 2-hour drive to Gallup, New Mexico. The drive through New Mexico to Flagstaff, Arizona, is desolate but beautiful. Red mountain formations jutting out of a desert. We arrive in Flagstaff in time to drive around and get familiar. The city is old and rundown. There are some really nice homes there though.
After dinner at Sizzler we go back to our dreary motel room and watch TV. I continue to feel great!
Mom and Frank headed southwest to Flagstaff. When Ric and I left Pagosa Springs last year we headed due west to St. George, Utah. We did have to dip down into New Mexico and drive through Farmington as well, but then we drove through northern Arizona, while Mom and Frank went through central Arizona. It was about 420 miles for them, 470 for us. The terrain ia about the same, I imagine, except that Flagstaff is at a higher elevation.

I had to laugh when she talked about going to a dreary motel room. Before we bought our Worldmark timeshare in 2003, we didn't think much of staying at Motel 6, which is in our price range. Now we are so spoiled by the beautiful Worldmark resorts, that having to spend the night in a motel is downright depressing. For us it actually saves money to stay in our timeshare because we have all our meals in the condo instead of eating out. It sounds like Mom and Frank ate out every night.