Tuesday July 30, 1991
I got up at 7:00, ate breakfast in the cabin and then went to have a massage. The swimming pool was overflowing as they were heating it. The massage was a lovely Swedish style. I really enjoyed it and hope to begin monthly massages at home.
Our ship took us up to the end of Tracy Arm to see the glacier. It was Sawyer Glacier. It was gigantic and very blue and jagged. No way you could walk on it. We stayed a long time and took many pictures.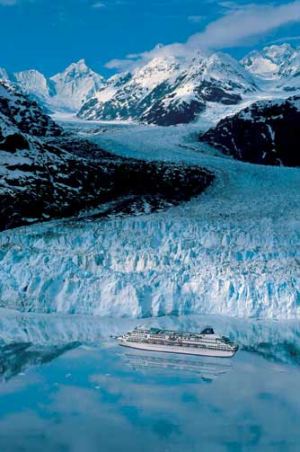 I'm still eating like a pig and surely will pay for this later. Dinner was Oriental with very good duck. Bingo produced no winnings. The show tonight was Broadway tunes with dancers. Very good! Bed early for early rising.
Those monthly massages sound like a great plan. Clinical studies have shown that massages in cancer patients reduce anxiety, depression, pain, nausea, and fatigue.

Tracy Arm is an Alaskan fjord located 45 miles south of the capital of Juneau. It is named after a Civil War general named Benjamin Franklin Tracy. It is 30 miles long and 1/5 of the surface is covered in ice. There are twin glaciers at the end of the fjord, the North Sawyer and the South Sawyer. The area is surrounded by sheer 1,500-to 2,000-foot walls of granite falling into the extremely narrow passage, creating countless waterfalls and strange rock formations covered in forest. The face of the South Sawyer glacier is 1/3 mile long and calves icebergs up to 3 stories tall.