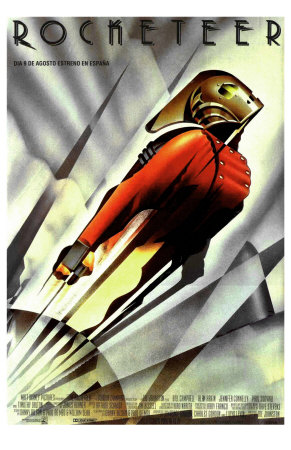 Thursday July 11, 1991
We try to get some more done from our last trip and get the house ready to be gone again for 4 days starting tomorrow. We take Justin to the movies to see Rocketeer. We check with Newbury Park tenants. They owe us $5000 now and it looks bad financially. They are still taking good care of the house.
After dinner we go square dancing. Justin is so good. He reads a book. We dance from 7:30-9:30. It's alot of fun.
When we get home we still have to pack and finish getting the house ready. I fall into bed at 11:30.
I remember that silly movie. According to Wikipedia it bombed at the box office even though it received favorable reviews from critics. For a 10-year-old boy though it was a fun way to spend the afternoon.

When Mom and Frank married in 1982 they rented out her two houses in the San Fernando Valley and his house in Newbury Park and bought a new house together in Simi Valley. $5000 was alot of money in 1991 to be behind in the rent. My husband and I have 9 rental houses and manage 6 more for my mother-in-law. Being a landlord can be very stressful, especially when tenants cannot pay their rent. It's a fine line to walk between showing compassion for your tenants when they hit a rough patch and going through with an eviction, which is also very stressful. We currently have a tenant who is $10,000 behind in his rent and it is putting a huge strain on us. The wife is undergoing chemotherapy and they are struggling to pay the medical bills, their rent and other bills.