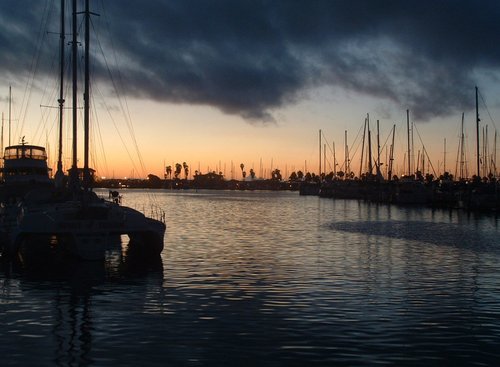 Friday December 20, 1991
Feeling pretty good these days except my thumbs and right wrist ache alot. I'm still preparing food to serve tomorrow.
At 10:45 we are on our way to Sherman Oaks for a Recreation & Parks Christmas luncheon. Frank enjoys seeing alot of old friends he used to work with, especially Jackie Tatum.
At 5 p.m. Marty & Kathy and Robbie & Delores arrive. We go to dinner at China Palace and then head for Ventura Harbor where we meet up with all our square dance friends. We tour the harbor on a party boat and see all the Christmas lights on boats and houses. It's really neat.
Chris and family are here when we get home. Marty & Kathy stay to visit for an hour until 11:30.
Wow, what a whirlwind day! Her life is so incredibly hectic that just reading about it can exhaust me sometimes! Two Christmas parties in one day! I retired from Pacific Gas & Electric in 2008 after 33 years, and my last boss always invites me for the department Christmas breakfast every year. I try to stop by the office once or twice each year to visit, but most of the guys I worked with are out in the field during the day, so it's nice to see everyone once a year at Christmas. This will be the fourth Christmas since I retired. Not sure how many years my old boss will continue to invite me. I worked in the Telecom Department for 12 years. So nice that Frank got to go to the Christmas luncheon with the guys he worked with at the City of Los Angeles Recreation & Parks Department. He enjoyed his job very much, but decided to retire when Mom got cancer so he could take care of her.

The Ventura Harbor boat tour sounds like fun. It is still pretty warm in So. California in December so it was probably a nice evening out on the water, and hopefully not too windy. They have a great life, filled with adventures and good friends.

It was nice to visit with Marty & Kathy. Marty was Mom's boss when she worked as a medical supplies purchasing agent years before and they continued to be friends after she took early retirement. We went camping with Marty & Kathy every year at Lake Don Pedro near Modesto, CA. They were good friends to Mom and Frank. Kathy even sat at Mom's bedside her last few weeks in the hospital. I have lost touch with them, but heard that they moved somewhere in Arizona several years ago.