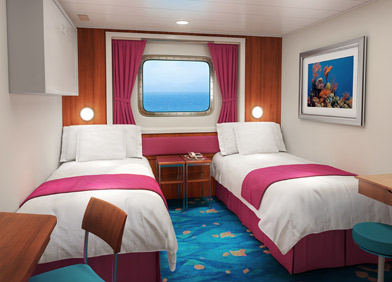 Sunday April 5, 1992
We're up about 8 a.m. in our room at the Omni Hotel in Miami, Fl. Frank goes to Burger King and brings back breakfast for me. We wander around and do some shopping before leaving on the bus at 1 p.m. and arrive at the ship at 1:20. I'm feeling tired but OK. We enjoyed the Keys so much. I wonder if the cruise will seem anticlimactic. Bobbie and Anita are so excited it catches on.
We have our luggage and are settled in our tiny cabin with the big square window by 2:30-3 p.m. We stroll around with Bob and Anita to check out the ship. Lunch and dinner are swell and the evening show is get acquainted.
I checked the Norwegian Cruise Line's itineraries for the Carribean cruises from Miami and it looks like they were on the Western Caribbean cruise with stops at Great Stirrup Cay, Bahamas, Ocho Rios, Jamaica, Grand Cayman, and Cozumel. 20 years later the cruise ship "Pearl" travels this route. It's oceanview rooms have 161 square feet. Their tiny room is pictured above. The Norwegian Pearl is pictured below.